What are the best PS4 local multiplayer games? Which couch multiplayer games should you play on PS4? While many titles offer great online experiences, nothing quite beats local multiplayer together with friends and family in the same room. Finding the right game can quickly turn four best mates into mortal enemies, or transform the group into a hysterical mess of laughter, screams, and joy. Luckily, the PS4 has enjoyed a bountiful resurgence of such titles. From stone-cold classics to utterly unique hidden gems, here's a list of titles to play with others that'll get everyone leaping out of their seats with excitement.
In this guide, we're looking at both competitive and cooperative offline multiplayer experiences, but if you're specifically looking for the Best PS4 Co-Op Games, you can find that list through the link. Also pay attention to our Best PS4 Family Games guide if you're looking for something to play specifically with your siblings and parents. For a more general guide to the Best PS4 Games, check it out through the link.
Best PS4 Local Multiplayer Games
Below is a full list of the best PS4 local multiplayer games. These are our favourites, and have sparked many a heated discussion in Push Square Towers.
25. Moving Out (PS4)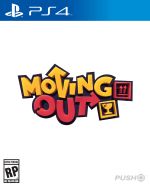 Publisher: Team 17 / Developer: SMG Studio
Release Date: 28th Apr 2020 (USA) / 28th Apr 2020 (UK/EU)
A local co-op game about shifting furniture? It might not sound a whole lot of fun, but Moving Out offers engaging, easy-going gameplay. You can play alone, but playing with up to three others really enhances the experience. Between you and your mates, you need to clear each building as fast as you can, with each stage slowly introducing new hazards and obstacles. It's also very accessible, with easy controls and family-friendly visuals and humour.

24. Nidhogg 2 (PS4)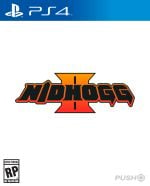 Publisher: Messhof / Developer: Messhof
Release Date: 15th Aug 2017 (USA) / 15th Aug 2017 (UK/EU)
The first game laid down an incredibly solid foundation of frenetic fencing mixed with tug of war, but Nidhogg 2 adds a sprinkling of extras that make it even more entertaining. With a striking new art style, lots of new weapon types, and a much larger roster of levels to fight through, the sequel has plenty to keep you busy. Face off in one-on-one duels, or use the tournament mode to see who among your chums is truly worthy of being eaten by a giant sky serpent. Be sure to give this a try for some unique, compelling multiplayer.
23. Stikbold! A Dodgeball Adventure (PS4)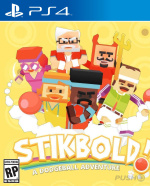 Publisher: Game Swing / Developer: Game Swing
Release Date: 5th Apr 2016 (USA) / 5th Apr 2016 (UK/EU)
This crazy, chaotic dodgeball game came out of absolutely nowhere in 2016, offering up a fast-paced, grin-inducing spin on the sport. Up to four players can duke it out in teams or in free-for-all as they aim to smack each other out of a selection of unusual arenas. The controls are very simple but there's just enough nuance to keep things competitive, and the whimsical presentation will keep the laughs rolling.
22. Laser League (PS4)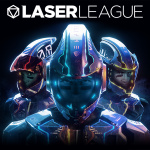 Publisher: 505 Games / Developer: Roll7
Release Date: 10th May 2018 (USA) / 10th May 2018 (UK/EU)
Laser League might not be the most populated game online, but there's no denying it's a brilliant multiplayer title. Four-player local matches let you duke it out in two teams of two, and the game quickly gets everyone frantic with its rapid pace, neon aesthetic, and simple controls. This is a unique title that's deserving of your attention during multiplayer gaming sessions.
21. Ultimate Chicken Horse (PS4)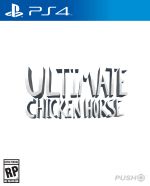 Publisher: Clever Endeavour / Developer: Clever Endeavour
Release Date: 12th Dec 2017 (USA) / 12th Dec 2017 (UK/EU)
With a name like Ultimate Chicken Horse, how can you go wrong? This is a 2D platformer with an ingenious twist — you build the level as you play it. Laying down traps and obstacles may slow your opponents down, but you'll have to navigate them too if you're to win. There's a great sense of strategy to this title that balances perfectly between careful planning and royally screwing everyone over.
Source: https://www.pushsquare.com/guides/best-ps4-local-multiplayer-games