Bethesda has released this year's roadmap for its online action role-playing game Fallout 76, while also noting how it's excited for all the new features coming to the game in 2021 and beyond.
The spring update improves your camp, person and arsenal. In summer, there'll be Steel Reign quests, fall will add a daily ops expansion and winter will add more four-star legendary, seasonal events and invaders from beyond.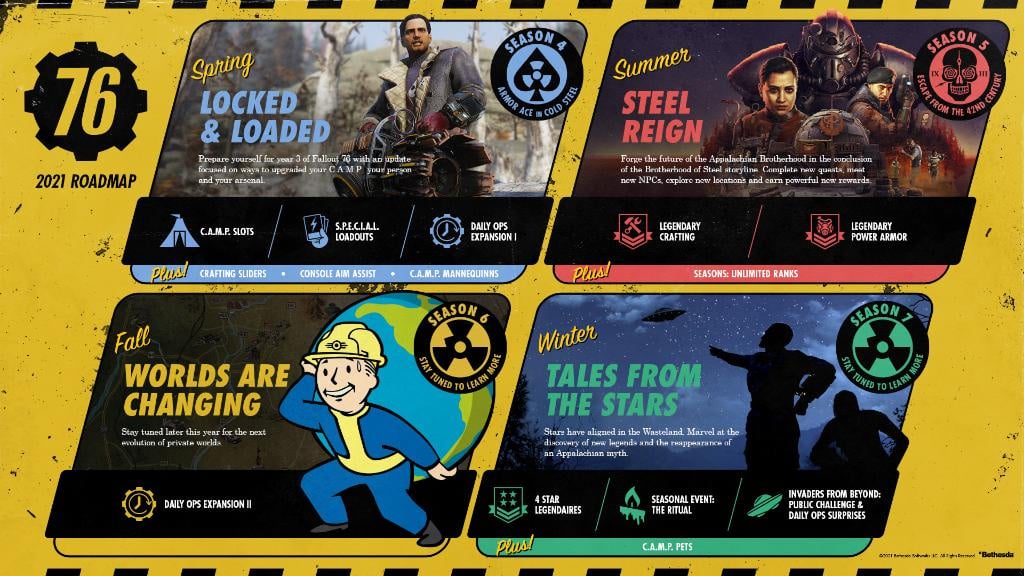 © Bethesda
Following Microsoft's acquisition of Bethesda, the company has since rolled out an FPS boost for five Bethesda titles.
One of these titles is Fallout 76 – allowing the game to run at 60 frames per-second but at a lower resolution. In saying this, fans have reportedly found a sneaky way to make this boost run at 4K.
Microsoft recently added a total of 20 Bethesda games to Xbox Game Pass, including Fallout 76. So now might be the perfect time to check out this game, if you haven't already.
Source: https://www.purexbox.com/news/2021/03/bethesda_reveals_this_years_roadmap_for_fallout_76