December was yet another busy month on the Nintendo Switch eShop, with plenty of fantastic games to choose from for some holiday fun. Naturally, then, we should probably crack out the good old Nintendo Life eShop Selects awards!
These awards aim to celebrate the best of Nintendo's digital store, giving some love and attention to the games that could so easily be missed in the Switch's ever-growing library.
So, let's get started. Here are the best Switch eShop games of December 2020!
Honourable Mentions:
While these titles didn't quite make our top three this month, they're still certainly worth checking out.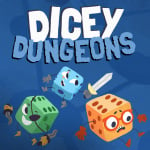 Publisher: Distractionware / Developer: Distractionware
Release Date: 15th Dec 2020 (USA) / 15th Dec 2020 (UK/EU)
Taking third spot this month is Dicey Dungeons, a cute, infuriating, but dangerously enjoyable roguelike adventure. The game takes place inside a bizarre game show, where players are turned into a playing die and have to battle their way through a series of treacherous, shifting dungeons that are ruled by chance. In our review, we gave it a very strong 9/10, praising its gameplay variety, music, and combat system. Make sure to give that a read and download the game if it sounds like it could be your thing.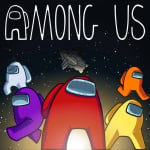 Publisher: Innersloth / Developer: Innersloth
Release Date: 15th Dec 2020 (USA) / 15th Dec 2020 (UK/EU)
In second spot is one you've probably heard of, even if you haven't had the chance to play it yet: Among Us. This one has been taking the gaming world by storm over the umpteen lockdowns we've been facing recently, so it's no surprise that the Nintendo Life team has been having great fun with it now that it's finally on Switch.
You'll need a group of friends and a separate voice chat app to get the most out of this one, but when those barriers are overcome, what we have here is an instantly accessible and super-addictive casual gaming experience that's perfect for online get-togethers. Get on it if you haven't already!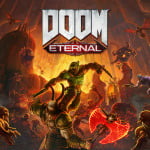 Publisher: Bethesda / Developer: id Software
Release Date: 8th Dec 2020 (USA) / 8th Dec 2020 (UK/EU)
And taking the gold is a game that arguably shouldn't really even have qualified for the awards in the first place. Yes, DOOM Eternal is technically a digital-only eShop game on Nintendo's platform, meaning that despite its huge fanbase and its equally huge budget, it does indeed meet our strict criteria.
Of course, the big talking point with this one is the severe, but sadly essential, visual downgrade required to get the game running nicely on Switch. We'll admit, it looks significantly better on other systems, but the fact that Panic Button has got the thing running on a little portable tablet – at a solid 30fps, no less – is remarkable.
Throw in the fact that the game itself is yet another wonderful, gritty, demon-blasting trip through Hell that's just as satisfying as you'd hope for, and it becomes pretty easy to see why we've nominated this is our top pick of the bunch. Rip and tear, folks. Rip. And. Tear.
< Nintendo Life eShop Selects – November 2020
How we decide our eShop Selects top three: As we reach the end of every month, the Nintendo Life staff vote on their favourite titles from a list of games selected by the editorial team. To qualify for this list, these games must have been released as a digital-only Nintendo Switch eShop title in that particular month, and must have been reviewed on Nintendo Life; we select the qualifying games based on their review scores.
Staff are then asked to vote for three games that they think deserve to sit right at the very top of that list; first choice gets 3 points, second choice gets 2 points, and third choice gets 1 point. These votes are then tallied to create a top three list, with the overall winner taking that month's top prize.
Source: https://www.nintendolife.com/news/2021/01/feature_nintendo_life_eshop_selects_-_december_2020