If you're feeling the hype for Persona 5 Strikers, you'll be pleased to know that the upcoming title is now available to pre-order on Nintendo Switch.
As was revealed last week, the game's launching on Switch on 23rd February 2021. Both standard and deluxe editions are available – although the deluxe release is exclusive to digital – and you can find details on each below.
Digital Deluxe Edition – $69.99
The Digital Deluxe Edition includes:
Exclusive access to the game four days early, on February 19
Bonus Content Digital Download
Digital Soundtrack – Over 40 songs included
Behind-the-Scenes Video – Making of the Music "You Are Stronger" and "Towards a Dream"
Persona Legacy BGM
Persona 1 and Persona 1 PSP remake
Persona 2 Innocent Sin and Persona 2 Eternal Punishment
Persona 3 and Persona 3 Portable
Persona 4 and Persona 4 Golden
All-out Attack Pack
Basic Affinity Skills Pack
Ally Buff Skills Pack
Armor Pack
Persona Points
Enemy Debuff Skills Pack
Standard Edition – $59.99
Pre-order Persona 5 Strikers from digital and physical retailers now! All pre-orders, digital or physical, come with access to the Bonus Content Digital Download.
Physical store pre-order bonus items and links below.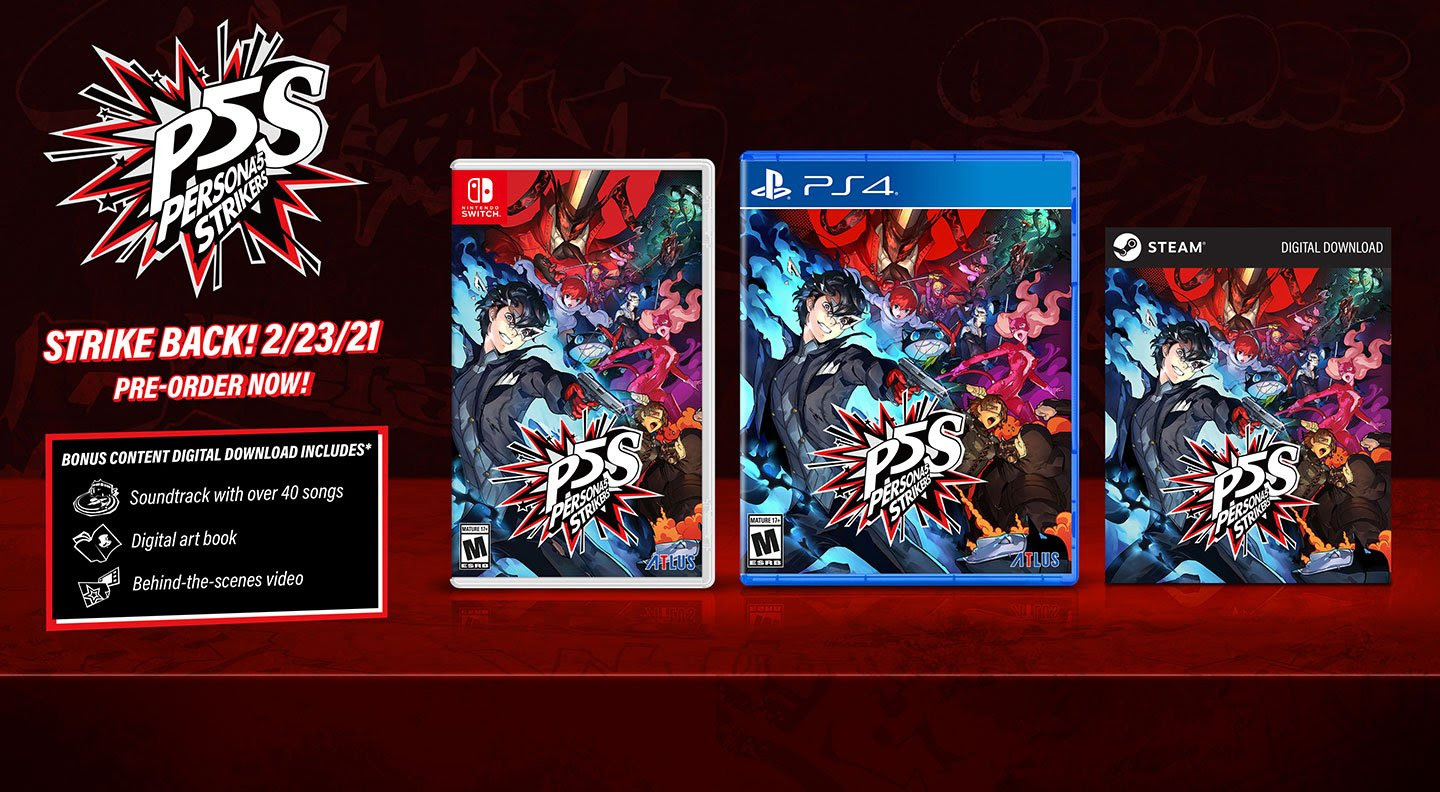 Make sure to catch up on the game's recent announcement trailer if you missed it. We'll leave you with this official eShop description:
Join the Phantom Thieves and strike back against the corruption overtaking cities across Japan. A summer vacation with close friends takes a sudden turn as a distorted reality emerges; reveal the truth and redeem the hearts of those imprisoned at the center of the crisis!
• Jump into the stylish world of Persona in an all-new story
• Dynamically control your team during explosive combat
• Battle across Japan in an epic road trip
Source: https://www.nintendolife.com/news/2020/12/persona_5_strikers_pre-orders_are_now_live_deluxe_and_standard_editions_available